The 18th Annual Ridge Spring Harvest Festival A Great Success!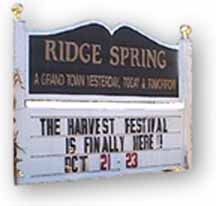 Eighteen years ago Ridge Spring celebrated the first Harvest Festival! Most amazing about the first celebration was that people came from miles around. Today we give special attention to the pecan industry of the area. We invite you to enjoy this day and celebrate with song, dance games and entertainment!

-- Richetta Daniel, 1999 Harvest Festival Chairman






The 18th Annual Ridge Spring Harvest Festival on October 21 - 23rd was the "Let's Go Nuts" year! Among the activities were fair rides, BBQ, dancing and music!




Saturday's festivities featured carnival rides, arts and crafts, the RSM Peewee Cheerleaders, Double Step Darlings and a parade. Shown at right is several of the parade entries. These antique tractors were as clean as the day they were made and looked great!




Our Grand Marshal for this year's 1999 Harvest Festival is Joe Cal Watson. He is the local owner - operator of the Nut House in Ridge Spring. He remembers his family started with 8 acres of pecans and now he owns and leases about 250 acres of pecans. Ridge Spring salutes Mr. Watson for his outstanding service in our community.
| | |
| --- | --- |
| The festival has many, many vendors selling food, crafts, clothing, collectibles, wood items and much, much more. You name it and it was probably for sale, including items for your home, pet, car and farm. Pictured at right is a sampling of the items available. | |
| | |
| --- | --- |
| Pictured at right is Mrs. Judy Vickers from Aiken and Ms. Lybrand, also of Aiken. Ms. Lybrand can be found at all area festivals and events with her delicious homemade cakes, candies, cookies and tarts. We especially like her cheese straws. | |
| | |
| --- | --- |
| Strom Thurmond Rebeleers minutes before they went on stage. | |
| | |
| --- | --- |
| One of the many festival sponsors, M. Danny Strickland. Danny and wife Trish own "Memories on Main" Antique Mall and Gifts. Located at 622 Main, they feature over 4,000 square feet of primitives, glassware, collectibles and southern pottery, including Edgefield. Stop by and say hello! | |
| | |
| --- | --- |
| If you happened to be around the show area at 1:30 PM Saturday you heard some of the best country music the south has to offer. Big John and Hard Driving Country Band performed for over an hour. Every toe was tapping and every face was smiling. | |
| | |
| --- | --- |
| The carnival rides opened on Friday at 6 PM and then again on Saturday at 9 AM. The rides were great and included a merry-go-round and several spinning rides. All carnival riders were smiling and riding and screaming with sounds of excitement. The young eyes were filled with amazement and wonder. | |
| | |
| --- | --- |
| Two happy carnival goers enjoy some of the many foods available. You could enjoy candy apples, elephant ears, hot dogs, sandwiches and cotton candy. The smells would remind you of young days at the county fair. | |
| | |
| --- | --- |
| A shot of the carnival grounds and merry-go-round. | |
| | |
| --- | --- |
| The Ridge Spring Harvest Festival 3rd Annual Car Show was held Saturday, October 23. It was open to all vehicles and the first 75 cars received dash plaques. Judging was completed at 4 PM and awards presented at 4:30 PM. | |

A special thanks to goAiken.com for the pics and story!

[ Festivals of the Past | Homepage ]